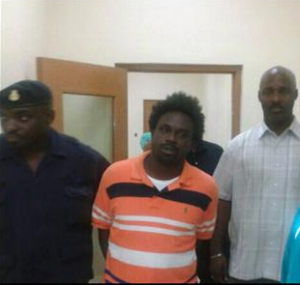 Dustin Gamaal Taylor, a 30-year-old along with his 53-year-old mother, Monique Partice Taylor, appeared before Chief Magistrate Joyann Pratt-Ferguson charged with the offence of possession of ammunition.
Defendant Dustin Taylor pleaded guilty to the offence and was sentenced to four (4) years imprisonment. Charges were dropped against the defendant's mother.
The duo were arrested on Thursday 6th March 2014 after officers from the Firearms Tracing and Investigations Unit acting on intelligence executed a search warrant at their home located at Trinity Way and Bethel Avenue, where they uncovered (20) rounds of .762 Ammunition.
The defendant Taylor was on bail for murder and two separate counts of unlawful sexual assaults.
POLICE IN HARBOUR ISLAND MAKE DRUG ARREST
Six (6) adult males along with a juvenile male are in custody after they were arrested in Harbour Island for possession of dangerous drugs on Friday 7th March 2014.
According to reports, shortly before 5:00pm, a team of officers from Harbour Island conducted an operation in the Pitt and Princess Streets area of Harbour Island that resulted in the discovery of a quantity of marijuana. The six (6) suspects were taken into custody for questioning reference to possession of dangerous drugs.