Former confessed drug dealer and FNM goon in North Eleuthera is believed to have orchestrated the tax dollars to be used in North Eleuthera eloection.

Who high up approved millions from treasury to be paid to parties on Family Island?

WHERE IS THE PEOPLE'S MONEY?
Nassau, Bahamas — When the Rt. Hon. Perry Gladstone Christie, Prime Minister of the Commonwealth of the Bahamas, gathers in the Churchill building with his newly appointed Cabinet Ministers, the business of the Bahamian people will finally begin.
Get this: when Mr. Christie and Mr. Davis, along with the new generation of leaders, see what we see they ga be shock.
Documents shown to Bahamas Press' senior editor could spell something criminal and could force some high-ranking elected officials to spend time behind bars.
According to our sources in the OPM, a series of exchanges between the Ministry of Finance Officials and Operators of the St. Georges Cay Power Company conspired together to pillage the treasury only days before the May 7th general elections.
According to the communications shown to us, operatives supporting the Ingraham government made a request to have all duties paid to the government for as far back as 2008 paid back to the company out of the treasury. Now get this: the amount is in the millions!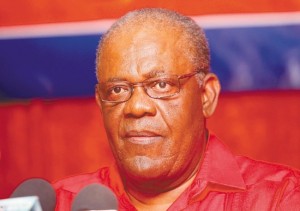 Communications along with invoices from the customs department and a major gas company were attached to cover letters showing the validity of the amount being requested.
Contents of a letter communicated by Talmon Brice on behalf of the Financial Secretary [see below] proved the amount requested had been granted high up in the Ministry of Finance.
In that letter Brice wrote: "I am directed to request that you facilitate the refund of all duties paid on diesel fuel by St. Georges Cay Power and Light for the period of July 2008 until they were granted duty free concessions.
"To assist you in determining the amount to be refunded please find attached receipts provided by St. Georges which cover the concessionary period.
"As this matter has been outstanding for some time, your quick response to this matter would be most appreciated."
Sources tell us it is believed the money was used in the general elections to diminish the chances of PLP candidate Clay Sweeting of winning over FNM candidate Theo Neily in North Eleuthera.
Hubert Ingraham repeated often on the campaign trail that Eleuthera will born twins.
We are told just days before the Elections, one of the representatives of the power plant was very visible in a dark red t-shirt giving out money and flat screen TV sets – and this only two days before the elections.
Bahamas Press calls on the Minister of Finance to investigate these claims and let the chips fall where they may.
Millions raided from the treasury only days before the general elections…
We report yinner decide!