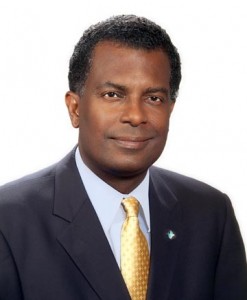 FRED MITCHELL MP FOR FOX HILL
ON CALL FOR NATIONAL DEBATE OF
THE POLITICAL LEADERS
FOR IMMEDIATE RELEASE
24th January 2012
The Prime Minister must stop ducking and dodging. He must agree forthwith and without conditions to a debate
on the issues facing this country in the next five year period. He must account for his decisions. Ducking and dodging will not do.
The PLP's leader has already said that he will agree to a debate. The Leader of the DNA has agreed. Now all that is required is for the man who claims that he means what he says and says what he means to stop ducking and dodging and agree to the debate.
This will not be the first time for a debate of the national leaders of political parties. Such a debate took place in 2002 with Perry Christie, PLP Leader; Cassius Stuart, Leader of the BDM; and Tommy Turnquest, Leader-elect of the FNM at the Xavier's College, hosted jointly by then Anglican Archbishop Drexel Gomez and then Roman Catholic Bishop Lawrence Burke.
The electorate demands and expects this of the their national leader. If Mr. Ingraham continues to refuse, he will go down in history as being neither trustworthy, transparent or accountable.
—-END—–