Monique Gomez, a Maritime trained Attorney, to get the FNM nod in South Beach.

Residents REJECT New FNM Candidate in the South
Nassau, Bahamas — Residents in the South Beach community are telling FNM newcomer, Monique Gomez, to go back home to her roots and stop faking in FNM fatigue.
Last night the FNM candidate in the southern constituency got her feet wet as she left South Beach almost in tears after doors slammed in her face.
One woman in the constituency could be heard screaming to the top of her voice, "Get ya %*&S outta my yard before I boil this bucket a piss I had been brewing for Neymour."
The angry resident refused to open her door raising a violent tone before the candidate could reach the gate. As the few campaign workers began to back away, the resident began screaming the words "Sweetheart deal….Corruption", as she castigated Ingraham's FNM.
But whatever the case, Monique is feeling the heat as the campaign is set to become an all out political war in the South.
Neymour, the bad FNM MP for South Beach, has abandoned the constituency to "Sweetheart" the constituency of Exuma. Neymour's office in the area is lock tight like a deep freeze for months with no one having seen or heard from the MP before Hurricane Irene last summer.
Sources witnessing the Monique's walkabout say, "From what we see in South Beach, she is wasting her time and money. There is no way the FNM has a chance down there. The residents are catching hell, lights are off, and many are jobless with homes in foreclosure. She is a waste of our time."
Monique was the Barefoot Bandit's lawyer, who argued that the man who broke into shops, carried a stolen illegal weapon, illegally landed, stole a boat and evaded authorities in the country, did nothing wrong. She and Papa together agreed, the Barefoot Bandit committed no crime and now papa wants her to run for him. HMMMMMMMM!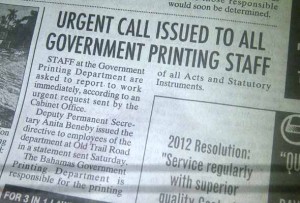 Meanwhile, elections are closer then we all think. Tuesday morning newspapers published a Cabinet Office story, which ordered all Government Printing staff to "report to work immediately."
The directive for all employees to report back to work at the department was issued by Deputy Permanent Sectary, Anita Beneby.
We understand more than half of the staff at the department failed to report to work following the holidays. The Ingraham Government plans to strike an early February General Election and Dissolve Parliament before Jan 23rd. The need for staff to report to work is to complete the printing of much-needed election materials before Papa rings the bell.
We report, YINNER DECIDE!