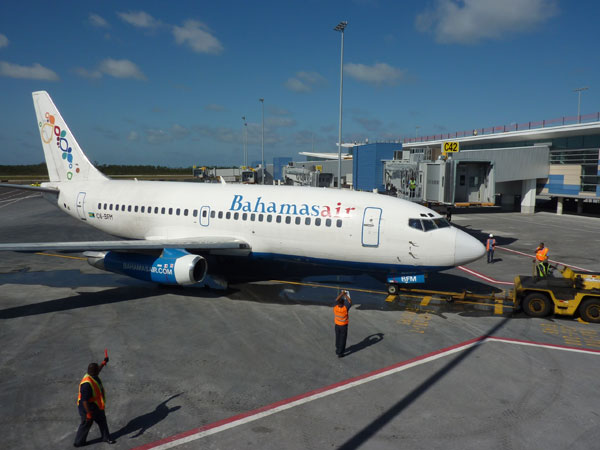 NASSAU, BAHAMAS – Nassau Airport Development Company (NAD) continued its Operational Readiness Trials on Tuesday, testing the jet bridges and push-back procedures on the airport apron at the new U.S. Departures terminal set to open next month.
Bahamasair lent its parked aircraft to the exercise, providing a real-world scenario for the readiness trial. The national flag carrier's ground staff got the opportunity to familiarise themselves with the new apron layout while putting their training with the jet bridges to the test.
Other US carriers and stakeholder groups such as the Airport Authority observed the trial in order to evaluate the steps involved in the process. NAD's Transition and Public Safety teams managed the trials.
Last week, the airport management company held a full-scale operational trial of the new US Departures terminal, inviting more than 500 members of the general public to participate in a simulated check-in and boarding process in the 247,000 sq. ft. facility.
From the PA system to the fire alarm to the $10 million baggage system, the trials allowed stakeholders including airline representatives and security personnel the opportunity to evaluate the advanced airport systems.
The new baggage system at LPIA is the most sophisticated and complex ever installed at a US pre-clearance facility – allowing for baggage to be deposited at each airline counter upon check-in, with weight and photos of the baggage transmitted electronically to US Customs and Border Protection.
In response to the trial results and stakeholder feedback, NAD's senior management, project and transition teams decided to delay the proposed opening "go-live" date from Wednesday March 2nd to Wednesday March 16th.
"Pushing the date back will provide all stakeholders the opportunity to enhance their proficiency with the systems, and will minimize the risk of operational challenges at opening," said NAD's President and CEO Stewart Steeves. "The project remains on schedule as the revised go-live date of March 16th is still within the original scheduled completion date for Stage 1 of March 20th. The new opening date has no impact to the official grand opening events set for this weekend."
Government officials and airport stakeholders will participate in an official opening ceremony at the new terminal on Friday February 25, 2011. NAD is also holding a public open house on Saturday February 26, 2011 from 12p.m.-6p.m. The event is open to the general public and no invitations are required. Free parking will be available.