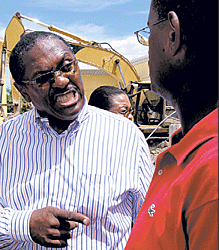 The following message was received from a resident of Grand Cay Abaco which comprise the North Abaco Constituency represented by Prime Minister Hubert Ingraham.
"Ain't had water for three days Mr. Roberts. I coming Nassau to live with you till after election. Cause we suffering extra bad than the rest of the country. They aint tell us what wrong yet".
The PLP is aware that Grand Cay has large a holding tank which suggest that the Reverse Osmosis Plant on Grand Cay was inoperable for more than a week and it therefore begs the question as to why it has taken Ministers Earl Deveaux and Phenton Neymour more than a week to insure that the required repairs were executed to guarantee the availability of mandatory commodity  of potable water for the residence of the isolated Cay.
The Reverse Osmosis Plant on Grand Cay has encountered problems in the past which was criticized by the PLP with justification and again call on the Ministers concerned to resolve this lack of potable water on Grand Cay without further delay. The people of Grand Cay deserve better.