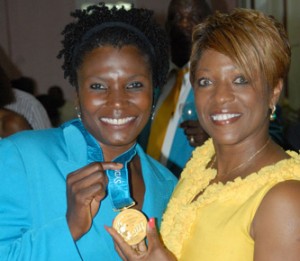 Nassau, Bahamas — Thieves in New Providence ransacked the home of a decorated Olympian, Paulene Davis-Thompson, over the weekend and took all of her fine medals in the exercise.
This is the second robbery against the international athlete, who was first robbed out of her medal when in Sydney Australia back in 2000, she raced against Marion Jones and lost. The medal was later taken from Jones following a scandal over that race, and Davis was awarded the Gold.
But in this latest incident some criminals are holding the world track star medals, and we believe they are headed to one of the cash for gold centers. The cash-in on stolen gold items is the new modern-day pirating practise in the Bahamas, where stolen items are traded in for cash.
The Ingraham government placed a ban on all scrap metal exports across the country to stem the copper thefts, however, they have done nothing to ban the gold purchasing businesses to stop thieves from raiding homes, ransacking the property of citizens  and killing people like the buccaneers of Port Royal. Is it because the cash for GOLD centres are owned by foreigners and special interests supportive of the government that they will allow this modern-day crime to fester?
Thieves also stole Paulene's Merit Award granted to her by the Government of the Bahamas. In tears telling reporters Davis said, "The flat screen TV and other items can be replaced, but the medals I have worked so hard for cannot."
A resident hearing the sad news said, "Crime is far out of control in the Bahamas and is now at alarming levels. Who would want to steal the accomplishments of a world track star who has given her life to the Bahamas? This is sad and will definitely not give the Bahamas good PR in the world."
Medals of Paulene Davis-Thompson stolen from her home in Western New Providence over the weekend and are in the hands of a cash for gold vendor.
We report YINNER DECIDE!