PC Emmanuel will face a judge this week after being caught in the act and holding stolen items!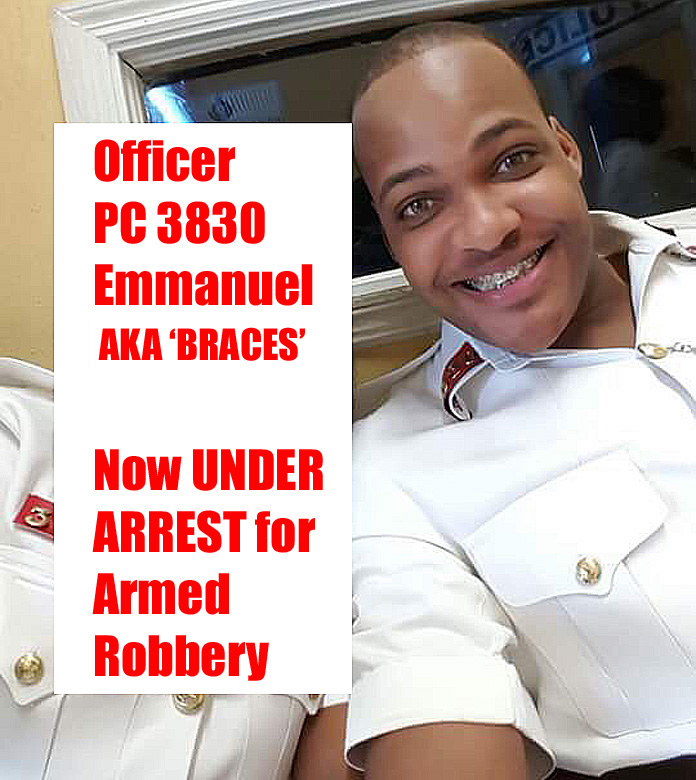 Nassau, Bahamas – Police now have one of their own under arrest, suspected in a number of armed robberies in the capital.
Bahamas Press is right now investigating these developments into the arrest of PC 3830 Emmanuel, shown here in photo, following the robbery of a woman who he attempted to bribe some hours after robbing her.
An investigation reveals how Emmanuel, after holding up a woman a few days ago, held her passport like ransom, and then contacted her on the popular social media site Facebook under a pseudo to collect $400 for the Government's document return. WHAT A JACKASS!!!
Good police work tracked down the pseudo name appearing on Facebook, which led them to a location where the officer with braces showed up to collect the funds as he attempted to drop off the passport and collect the funds for its return. UNBELIEVABLE!
BP investigations confirm Emmanuel had just recently joined the Force, which today is undergoing a major overhaul under the leadership of COP Greenslade! The top COP don't play! And we know he has already ordered all insignia issued by the RBPF to be stripped off the "bad apple" caught committing crimes! WHAT A DISGRACE!
Emmanuel, we understand, now is suspected in several recent armed robberies including one in the parking lot of RND, another in Stapleton and several more in some communities throughout the capital while on and off duty.
He also has a relative right now sitting in jail and rotting in jail for a number of crimes.
We report yinner decide!
PS: And while we at BP telling y'all this story those in the WUTLESS MEDIA are reading and are set to tell you a LIE why some politician should be fired cause their own relative cannot behave! Isn't dat a disgrace? THE REAL STORY ONLY ON BAHAMASPRESS.com