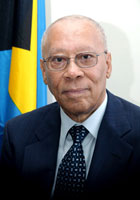 Nassau, Bahamas — As a member of the Commonwealth of Nations The Bahamas recognizes Her Majesty Queen Elizabeth II as Head of State. The Governor-General is Her Majesty's representative in The Bahamas and constitutes a symbol of the nation's unity.
Very reliable information has come to the attention of BP that Government House is being used for partisan politics by the Free National Movement Government.
During the past eight days sources confirmed that two meetings have been held at Government Hill to discuss proposed changes in the Boundaries and the second to develop strategies to solicit the return of disgruntled FNM Supporters.
The Office of Her Majesty's has been defiled and BP is obliged to remind the Governor General Sir Arthur Foulkes and Prime Minister Hubert Ingraham that the office of Governor General constitutes a symbol of the Nation's unity and must cease forthwith the used of Government Hill for any and all partisan politics.