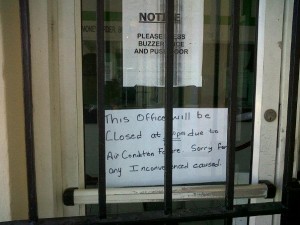 Nassau, Bahamas — What is happening inside the postal department? Bahamas Press is reporting two postal satellite offices here in the capital are without air condition since hurricane Irene.
BP can confirm the postal offices on Shirley Street and Carmichael Road sent staff home at 1pm today. The air-condition are said to have went down and the snail mail sorting exercise has slowed to a halt. What a sad indictment on the postal management; under performance to the detriment of the public.
A few months ago it was East Street North and Cable Beach postal offices  which were down with the same problem. It took the government months before the units were repaired.
And where is the WUTLESS media in these update? Somewhere protecting the WUTLESS Bahamian Gaddafi.
We can do better!