NASSAU, The Bahamas – The Rt. Hon. Perry Christie, Prime Minister, thanked a group of religious leaders for their unwavering support before and after the May 7, 2012 general election.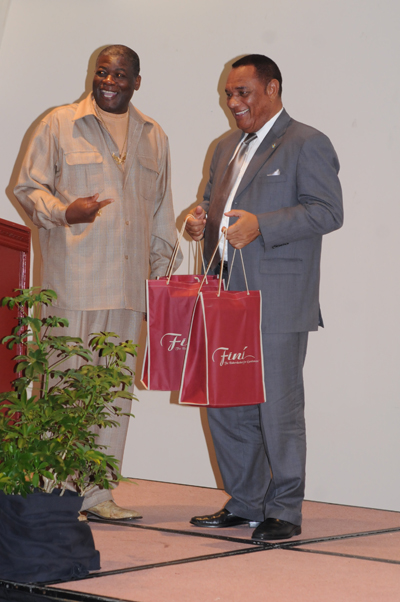 "This gift you have given to me today, makes me feel good," the Prime Minister said during a meeting with the clergy at the Wyndham Nassau Resort on Wednesday, August 29, 2012.
Also present were the Hon. Philip Davis, Deputy Prime Minister and Minister of Works and Urban Development; the Hon. Melanie Griffin, Minister of Social Services; the Hon. Michael Halkitis, Minister of State for Finance; the Hon. Khaalis Rolle, Minister of State for Investments; and the Hon. Renward Wells, Parliamentary Secretary in the Ministry of Works.
The Prime Minister touched on a number of topics namely urban renewal, the mortgage relief programme, saturation patrol, and the economy, amongst other things.
He expressed concerned over how mothers, particularly single mothers, are coping with children with disabilities and other mental and physical challenges.
In this regard, he said the Urban Renewal Programme is set up to go into homes to find out about such challenges and other issues facing parents; not just to gather intelligence on criminal matters.
"We are having a major impact on crime with urban renewal," he said.
The Prime Minister also spoke on some of the programmes he implemented during his 100-day challenge. Notably, the mortgage assistance programme in collaboration with the Clearing Banks Association to assist struggling homeowners; and the police saturation patrol throughout the communities.
He said there is no way young men should feel they have the right to violate people's homes and carry out acts of rapes and murders.
"The police must provide coverage in the communities on every street. They must be relentless in their efforts to pursue this," he said.
Another critical role the police will play is their presence on school campuses to ensure the environment is "free of violence", the Prime Minister said, adding that this will remain until such time as security personnel are properly trained to deal with conflicts in the schools.
On the economy, the Prime Minister said that the International Monetary Fund (IMF) has scheduled a visit to The Bahamas during the third week in October to see whether the economy is being properly managed and the Government's position on the Bahamas Telecommunications Company, BTC.