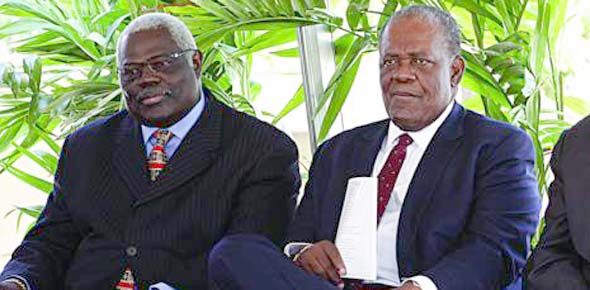 PUNCH Revealed: 2 Men Russell Stopped From Beating PM!
Your super knock-out Punch reveals today folks who the two mystery men that Kenneth Russell alleged he stopped from causing harm or "beating" PM Hubert Ingraham.
Speaking shortly after he was fired as Housing Minister, FNM MP Russell said he was shocked at the way the PM had treated him.
Russell pointed out that Ingraham had dumped him from the Cabinet even though on two occasions he's saved the PM from being attacked by angry men. Russell declined to name the two men.
But Punch has learned that the two men were angry husbands. They did not accuse the PM of having an affair with their wives.  Instead, they were jealous of the close working relationship that the PM allegedly had with their wives. The most recent of the two dramas allegedly happened at the PM's Office in Freeport. Ingraham and Russell were reportedly pulled the man off Ingraham. The man was escorted off the premises.
The man was reportedly the husband of one of Ingraham's closest and most trusted female aides. She is a pretty, tall brown-skinned girl in her thirties. She travels all over the world with the PM's entourage. She is famed for allegedly upsetting the PM's wife Delores by boldly fixing the PL's tie and jacket when he gats out of his car.
The girl was promoted by the PM to a top job over more senior staff. And she moved from Freeport to Nassau to work closely with the PM.
Her husband reportedly felt that his wife's working relationship with the PM was harming their marriage.
In the other drama during Ingraham's second term in office, another angry husband had to be stopped by Russell from attacking the PM.
The husband later referred to the PM without naming him in his divorce petition. He accused the PM of meddling in his marriage.
His brown-skinned wife was also a personal assistant of the PM. She is now a senior civil servant.