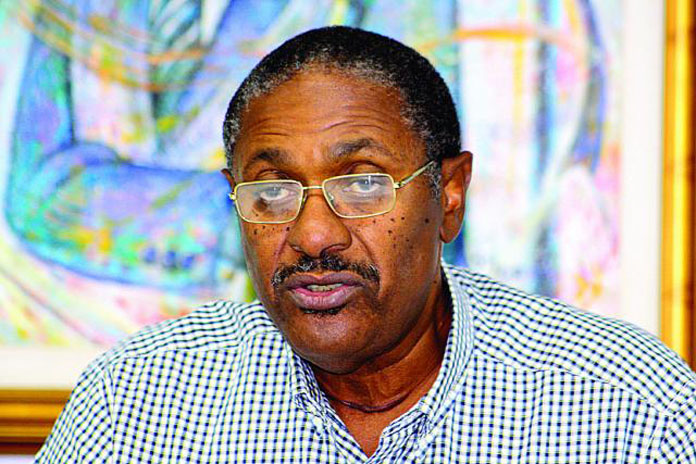 by Bradley Roberts
Once again I see the politically disfigured face of Brensil Rolle, the profound new Guinness Book of World Records nominee for the shortest tenure as national chairman of a major political party in the western hemisphere.
NO AMOUNT OF VITRIOL, POLITICAL BLUSTER AND ANGRY TIRADES FROM MR. ROLLE CAN DEFLECT FROM THE DEEPENING FRACTURE WITHIN HIS ORGANIZATION.
That said the signature gutter politics, slime and sleaze of one Hubert Alexander Ingraham permeated Mr. Rolle's tirade; that selfish political tribalism sits at the core of the deepening fracture of the FNM.
I again offer Mr. Rolle some unsolicited advice. IT IS NOT TOO LATE SIR FOR YOU TO BE A MAN AND STOP BEING THE LACKEY OF YOUR POLITICAL GOD WHOM THE BAHAMIAN PEOPLE HAVE LONG CONSIGNED TO THE TRASHBIN OF HISTORY. PUT YOUR ORGANIZATION ABOVE SELFISH INTERESTS AND HIDDEN AGENDAS.
I note with fascination Rolle's comment about a matter which he claims is before the Police. It is always interesting to see how FNM's use the Police when it is politically convenient. Former FNM chairman Michael Pintard and leader Dr. Hubert Minnis could not see their way to report knowledge of a serious crime to the police. Pintard is on record coaching both criminals on the affidavit and negotiating the payment of huge sums of money in exchange for a signed affidavit. Minnis admitted to meeting with one of the gangsters on three occasions. He said the gangster had his personal phone number, knew where he lived, visited him at his home and brought him fish. Why did Minnis and Pintard not act responsibly and seek out the Police in the public interest and in carrying out their civic duties?
The FNM Leadership is effectively disqualified from discussing this criminal matter until they come clean on what they know and when the leadership knew it.
Further, the incoherent babble from Rolle on this sordid affair as he feigns support for Dr. Minnis speaks volumes of the duplicity and cunning of the Abaco Dragon who lurks and wants to pull on Dr. Minnis the very same political coup he perpetrated on Tommy Turnquest.
WHILE PUBLICLY PROCLAIMING HIS UNDYING SUPPORT FOR DR. MINNIS, MR. ROLLE SIMULTANEOUSLY DECLINES TO SERVE UNDER THE LEADERSHIP DR. MINNIS. TALK ABOUT THE SKILLFUL USE OF THE PROVERBIAL CHINESE KNIFE!
Rolle lacks the guts and courage to say he has no confidence in the leadership of Dr. Minnis whom he tries to deceive with sarcastic plaudits and empty praise. Dr. Minnis no doubt is fully aware of the diabolical plot that Rolle and Ingraham's other little Igors are hatching.
In the end, the scheming, the conniving, the double-talk, the double dealing, the corrupt behavior and the selfish political tribalism within the official opposition continues to weaken it and does a severe disservice to the Bahamian people who increasingly view the FNM as unsuitable to govern this country.