Scores of supporters flocked to San Salvador airport as PLP Deputy Leader Philip Brave Davis touched down in campaign swings through the South and Central Bahamas. "Welcome to the Land of the BRAVE".

San Salvador left depressed by the FNM in 2002, restored back by the PLP
San Salvador, Bahamas — PLP Deputy Leader and MP for Cat Island, Rum Cay and San Salvador, Philip Brave Davis, kicked his campaign into high gear Thursday as he moved through the islands in the South and Central Bahamas.
Davis, along with his campaign team, made a stop in San Salvador this week as he moved throughout the country as the general election is about to be called.
The island's MP was received with a rousing welcome with chants of "Home of the Free and Land of the Brave!"
Many islanders in San Salvador remember all the hard work done by the Christie administration in 2002,when they met the community's tourism product in shambles following the FNM's term in office.
Davis was elected to Parliament on the promise that he would restore the island's previous robust tourism product, and that he, if elected, would put Bahamians back to work. After 2002, Davis got to work and engineered the restoration of the island's tourism economy. Club Med reopened, Bahamians were put back to work, and the island infrastructure; including the airport, was completed by the PLP.
The airport had been left unfinished – with millions in cost overruns – by the FNM government. And now the FNM's poor management and oversight of the country's infrastructure is once again repeating itself.
Davis assured residents in San Salvador today, "When your PLP government is reelected, you can rest assured the entire country will be in the hands of a capable team that will put Bahamians first. We believe in Bahamians."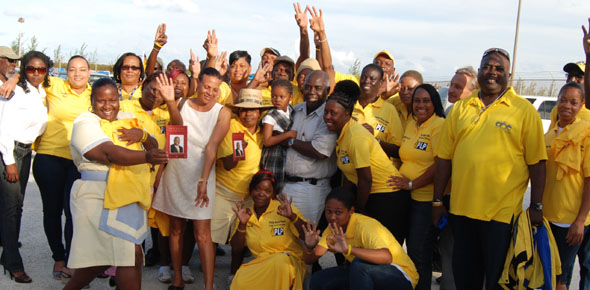 THE FNM GOVERNMENT CANNOT MANAGE THE ROADWORKS!!!!