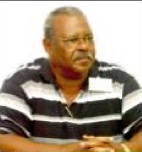 Nassau, Bahamas – It makes plenty sense now to investigate and make sure your son or daughter is not taking drugs because if they are, you could be living with the devil!
A horrific, bloody almost Nellie Brown-Cox type scene, took place around 5am yesterday at a family residence in Dampier Drive on Grand Bahama, where a man almost murdered his father, brother and nearby neighbours after taking a dangerous dose of drugs.
Sources tell us the son of Ron Darville, Michael Darville, erupted into a demoniac early Thursday morning after smoking an extremely high grade of purple haze [weed]. The young man then flipped in the head and began chopping like a pig the political henchman and general of the Prime Minister.
Sources tell us Michael chopped his father into an unconscious state and then turned the machete on his brother Joseph before fleeing the home in a rage and attacked three neighbours nearby.
He then fled the scene of the incident after leaving five persons seriously wounded with the sharp cutlass.
Police on Grand Bahama were rush to the scene of the crimes and later perused the suspect who fled on foot. They later caught up with Michael, and as he charged on officers, he was gunned down in his tracks.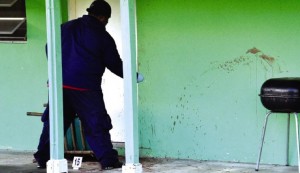 Residents have confirmed to BP the drugs smoked by the young man was allegedly purchased at a home not far in the area, which some believe is mixing its own batch of weed to set younger Grand Bahamians crazy.
Ron Darville is the Deputy Director of BAIC and is a major campaign general for the FNM.
Another family axed and the dope-head shot dead by police. Here is another reason why young people must 'say no to drugs'. What a sad ending.