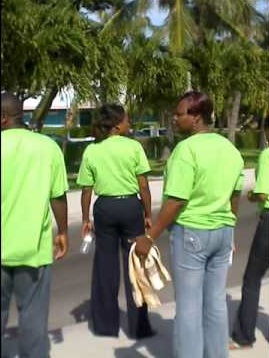 Paradise Island, Bahamas — Officials at Atlantis Resorts on Paradise Islands have landed at the resort some 150 private investigators to weed out the unsavory characters in the company's employee mix.
Bahamas Press has learnt the first axing exercise at the resort happened last week Friday when the hotel fired a reported 50 workers for their behaviour in thievery.
An example of the money hemorrhage at the resort could be found in the casino bars, where endless rounds of drinks were served to guests who paid under the table.
A source in the upper floors of the hotel tells us, "We at all cost intend to stop the huge lost of money that is being vacuumed out of our tourism model. Everyday we are losing money through persons employed with the property. We intend to weed out this "ACT OF THIEVERY" now crippling the product."
No word of the axing has come from Hotel Union officials who were in negotiations with the property earlier this year begging resort officials to not downsize workers due to the slowdown in vacationing guests.
Two months ago a sting operation at the resort cracked down on taxi drivers at the door of the mega resort. Investigators discovered cab drivers were peddling drugs to guests. Some 10 taxi drivers were charged as a result of those investigations.
Despite all this, no words from a resort official have come to place a crackdown on the massive Jamaican and American prostitution rings that are stationed throughout the family-centered resort.
Last week a high heel blonde with a Jamaican accent followed a man vacationing with his family from the poker table all the way to his room. It is was reported that the prostitute banged repeatedly on his door with wife inside yelling, "I'll give you piece for half the price!"
Something needs to be urgently done about the mass prostitution rings now camping out on the grounds of the Atlantis property.