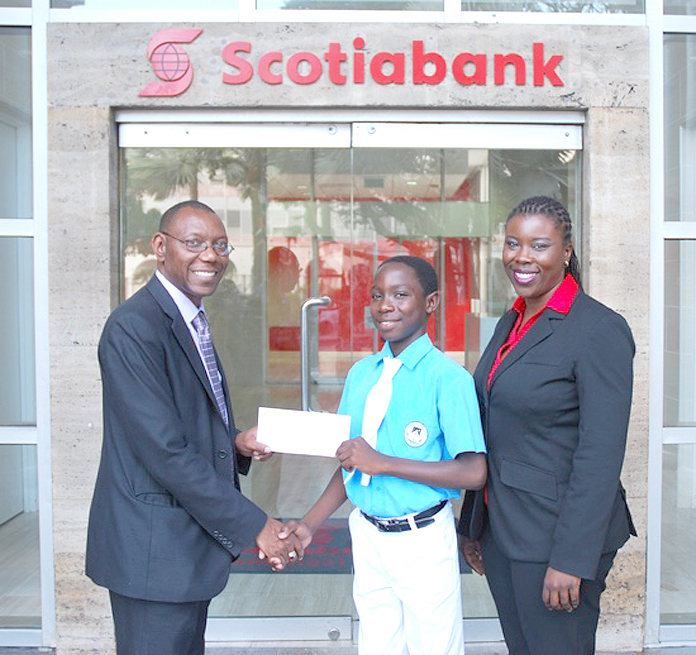 Nassau, The Bahamas, May 3, 2016 – Scotiabank renewed its patron sponsorship of The Bahamas Primary School Student of the Year Foundation. The Bank will award a scholarship to the 2 nd runner up of The Bahamas Primary School Student of the Year, 2016.
"Scotiabank remains committed to helping young people in the community become better off, "said Maxine Seymour, Manager, Public; Corporate Affairs, Sponsorships; Philanthropy, Scotiabank. "We are proud to partner with the Foundation in celebrating the achievements of ambitious elementary school students. We wish these top performers every success as they embark on their high school journey."
Scotiabank's 2016 scholarship cheque was presented by last year's recipient, Dariq Chase, during a special visit to the Bank. Chase is a 7 th grade student at Aquinas College and is making the most of high school, participating in drama, choir, Key Club, and Unesco Eco Club all while maintaining good grades. He likes to read, swim and play video games.
Over 100 students from public and private schools in New Providence, Grand Bahama and the Family Islands will be recognized during the annual Bahamas Student of the Year awards ceremony scheduled for Saturday, May 21 at 6:00 in the evening at Golden Gates World Outreach Ministries. Scholarship Funds are paid directly to each recipient's institution of choice.