Minnis should call an Executive Council Meeting of the FNM to EXPEL THE REBELS who failed to believe in democracy!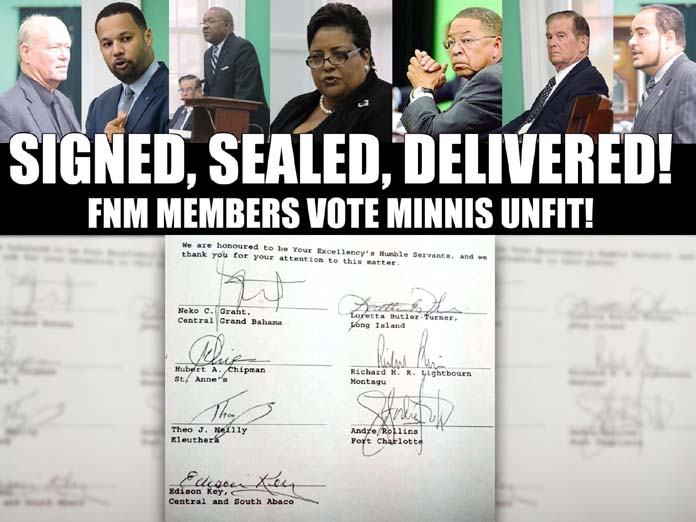 Nassau, Bahamas – Breaking news coming out of the Parliament confirms that a letter has been sent to the Government General Dame Marguerite Pindling confirming a Vote of No Confidence in the Leader of the Opposition Dr. Hubert Minnis.
Loretta Butler Turner, Neko Grant, Edison Key, Theo Neilly, Richard Lightbourn, Chippie Chipman and Andre Rollins all penned their signatures to the letter dated December 7th, 2016 seeking the Governor General to invoke the articles of The Constitution, which will invite the appointment of a new Leader of the Opposition.
With the exception of Mr. Edison Key, the group had threatened to remove Dr. Hubert Minnis if he had not called an early Convention of the Party in July. Butler-Turner challenged Minnis at the convention but she faced rejection by the delegates so she withdrew her nomination.
Since that falling out Minnis has, one by one, axed nominations of those dissident members and now they have returned to complete what they started and did not finish.
In his response to the decision of the 7 FNMs, Minnis castigated them, calling them rebels who do not believe in democracy!
But this is not the end. Minnis remains leader of the Party and, by extension, controls the direction of the FNM Party.
By tonight Minnis could call for an emergency meeting of the Executive Council of the FNM and have all seven members expelled from the organization.
Also, with just months to go until a General Election, we know Parliament will not be meeting long now, and therefore the GG could stall her decision to invite the group to Government House.
In the end Team Butler still loses! Hubert Ingraham said, Christie is the man! Oh Boy!
We report yinner decide!