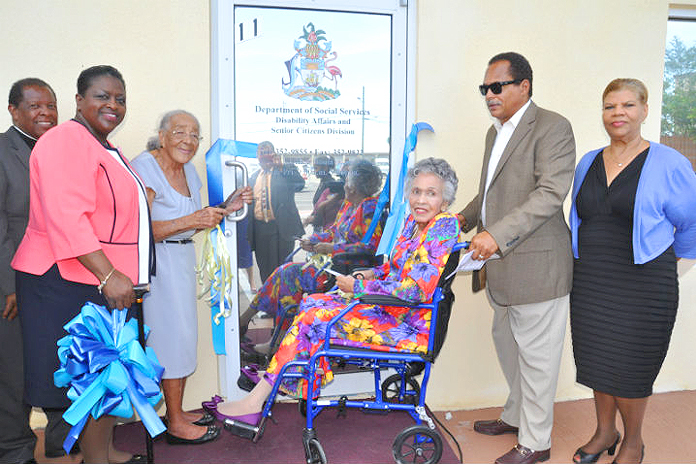 FREEPORT, Grand Bahama – The Disability Affairs and Senior Citizens Divisions of the Ministry of Social Services and Community Development was officially opened on Friday, May 13, by the Minister responsible, the Hon. Melanie Griffin.
The Minister said: "The United Nations Convention on the Rights of Person with Disabilities is an international treaty, intended to protect the rights and dignity of persons with disabilities. Parties to the Convention are required to promote, protect and ensure the full employment of human rights by persons with disabilities and ensure that they enjoy full equality under the law. The Bahamas became a signatory to the Convention in 2013, and ratified it in 2015. This means that The Bahamas is legally bound by the principles of the Convention to protect and promote the rights of persons with disabilities.
"The Bahamas Persons with Disabilities (Equal Opportunities) Act, 2014, unanimously passed by Parliament, is another important instrument that obligates us as a country to uphold the inherent rights, dignity and value of persons with disabilities. The purpose of the Act is to end discrimination on the basis of disabilities, and to ensure that persons with disabilities fully and equally participate in society, by creating accessible and inclusive environments. Our Act allows the guiding principles of the UN Convention, and the opening of this new Division here in Grand Bahama is yet another signal of this Government's commitment to safeguard and advance the rights of persons with disabilities.
"Every person with a disability — whether they have physical impairments, development or learning impairments, sensory or visual, hearing and speech impairments — every one, has the right to be treated with dignity and respect. Every persons with a disability has the right to be included and participate in society. Every person with a disability has the right to full protection under the law, and the right to equal access and opportunities to health care, education, employment and transportation."
The National Commission for Persons with Disabilities, she said, is mandated to protect the rights of people with disabilities on every island, and the Commission is mandated to receive and address complaints from persons on any island when they feel they are being discriminated against, or their rights are being violated.
Listing the various groups in Grand Bahama — the Grand Bahama Deaf Association, the Beacon School, the Northern Bahamas Council for the Disabled, the Challenged Champions Group, and other organizations, she continued, have worked tirelessly to help raise awareness, advocate on behalf of, and support the Community of persons with disabilities.
"The establishment of this Division will go a long way in helping to provide additional resources and assistance needed to address the needs of persons with disabilities and their families. But this Division is not just about offering assistance — it is about providing opportunities for empowerment, as well as ensuring the rights of persons with disabilities.