Senior Police must ask their officers at Potter's Cay why this boldfaced defiance of the law continues!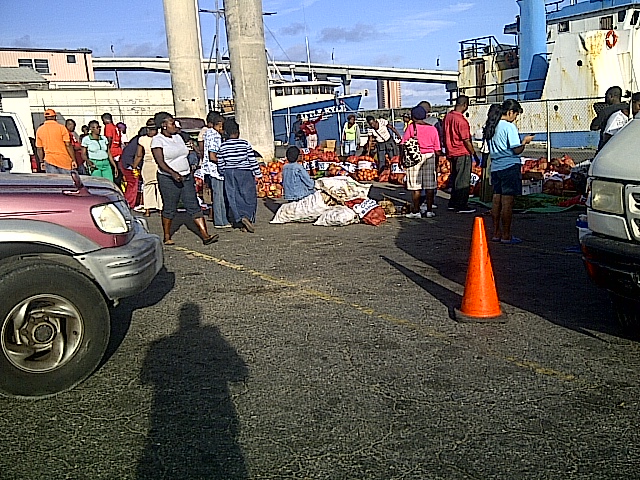 LAWLESSNESS AT POTTER'S CAY DOCK! RIGHT IN FRONT OF THE POLICE!



Nassau, Bahamas — Bahamas Press was shocked and amazed yesterday after we completed our daily walk over the Paradise Island Bridge.
We stopped on Potters Cay Dock to look for fresh fish, and thereon we see Haitians selling without permits or licenses right in front of the Police Station and in direct competition with the Produce Exchange.
What in the hell is this? Boldfaced defiance of the law – right in front of the law enforcers!
UNBELIEVABLE!
We thought for a moment this cannot be in the Bahamas, and that we must be in St. Louis Du Nord, Haiti.
Everyone around us in that section under the bridge spoke Creole, and all the goods are spread over the ground.
We want the relevant authorities to deal with this matter forthwith! It is a health hazard and we don't need Cholerea and Malaria to spread throughout this nation.
Right now there is a health crisis that has broken out at S. C. McPherson where the students were ordered to clinics to get tested for some sickness at the school and nothing has been said! NOT A LICK IN THE WUTLESS MEDIA!
Under the Paradise Island Bridge they are selling without regard for any Health Certificate, business license or NIB contributions. What in the World is this? Yet the minister is prepared to get fired by throwing out vendors at Arawak Cay for non-payments? WHAT ABOUT THE ILLEGAL VENDORS – selling in front of the police – AT POTTER's CAY?
We need to stop these underground economies from operating with no regard for the rule of law. And again we cannot stress this enough – This is happening directly in front of the Police Station!
The people seen in the pictures were selling everything from grits and groceries, to bleaching soap, sodas and liquor. This cannot be right, we cannot do this in Haiti.
We will be back next week with another expose on the Haitian Mafia, who have taken over the Conch Business on Arawak Cay.
Stay Tuned. We report, somebody better quickly Decide.