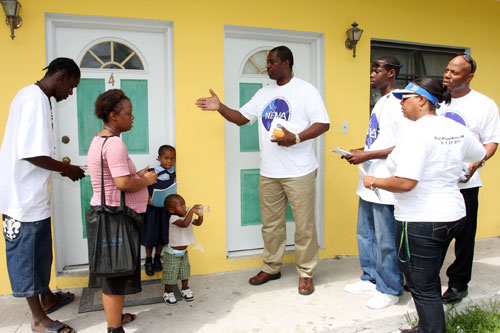 BP's word to the PLP…When ya can't listen you will feel!
Nassau, The Bahamas – The National Emergency Management Agency, NEMA, has embarked on a mission to educate the public, particularly those in the low laying and densely populated areas about the importance of being prepared for any disaster, natural or man-made.
On Monday, June 5, Captain Stephen Russell, Director of NEMA led an emergency support function team into the Kemp Road area, where pertinent information on disaster mitigation and preparedness was disseminated to residents.
The exercise is part of Disaster Preparedness Week, which started Sunday, June 4 with a church service at Ebenezer Methodist Church. The week, June 3-9 is being held under the theme: "Building Resilient Communities Through Mitigation and Preparedness".
Other activities include segments on talk shows, seminars, and an exhibition Friday, June 8 and Saturday, June 9 in Rawson Square.