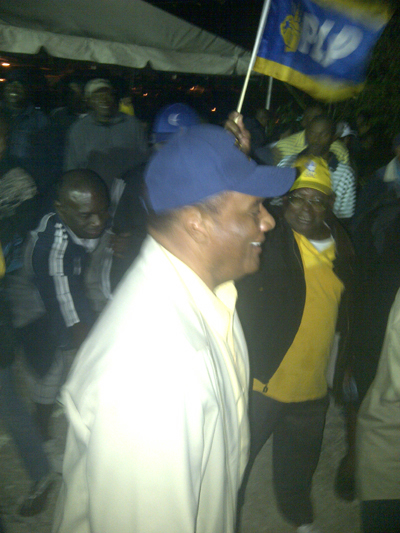 Perry Christie captured here just minutes ago as he along with hundreds of Abaco residents rally in North Abaco tonight!
The PLP BIG MACHINE is now on the ground across the country as election readies for Frbruary 2012.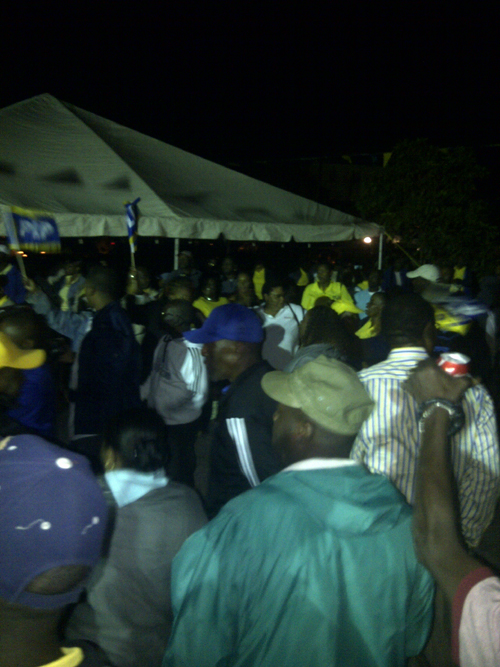 Delievered by Bradley Roberts
At the opening of the PLP HQ in Dundas Town North Abaco Constituency
November 12th 2011
Ladies and Gentlemen, I am delighted to be here tonight in the North Abaco to join with Renardo Curry and the people of Abaco in the official opening of the PLP's Headquarters here in Murphy Town which borders Dundas Town and together form the largest bloc of voters in North Abaco Constituency.
Many young people here in Abaco told me that they are tired of their arrogant and biggity Member of Parliament who has no time for them despite his many promises to change. They told me that he constantly changes his mind. They told me that their parents told them Hubert wanted to be Prime Minister for only two terms and now wants to become the Papa Doc of the Bahamas. They told me that they have forgotten how many times Hubert Ingraham asked their parents to re-elect him for the last time; they say clearly his is the action of a double minded man. One of the young men reminded me: The Bible says a double minded man is unstable in all his ways.
My Brother and Sisters, the young and not so young also told me that Hubert has clearly forgotten his declaration that Sir Lynden Pindling thought only his Ma could born a Prime Minister and is now demonstrating  that same belief for himself by his own actions
To those; in particular the Lady on Shirley Street who believe that Hubert Ingraham is invincible I have news for them tonight; The young and not so young here in Abaco have decided to show Hubert Ingraham the door and embrace a young energetic and progressive son of the soil Renardo Curry. The call from a long overdue change has come from Grand Cay, Little Abaco, Coopers Town, Treasure Cay, Green Turtle Cay, Dundas and Murphy Town. The clarion call for change can be heard all over the Bahamas where our people are catching hell under this distrustful and destructive FNM Government. The record will show that the call began on February 16th 2010 with the people of the Elizabeth.
My Brothers and Sisters, you will recall a significant bye election was held in Nassau on February 16th 2010. The people of the Elizabeth Constituency went to the polls following the induced resignation of Malcolm Adderley. My friend Malcolm was clearly duped by Hubert Ingraham the master manipulator who unmistakably believes that ever man and women has a price.
The full mighty weight of the FNM Government was brought to bear. During the bye election millions of tax payers' dollars was spent by the Government, the buying of stoves, refrigerators etc., temporary jobs and all kind of promises; anything to get votes for the FNM.  Voter intimidation was at the worst ever seen in the history of the Bahamas by FNM Ministers who were out in-mass campaigning and canvassing voters as they stood in line at the polling stations on bye election day. The FNM were so confident of victory that Hubert Ingraham boastful prediction of victory was that the FNM would win by 300 votes. The FNM candidate Dwayne Sands was rejected and went down in flames.
Ladies and Gentlemen, just like the Straw Market in 2001 and the massive fire at Kelly's dock in February of this year, the destructive torch of the FNM was put out by the water of the re-energized PLP. The voters of Elizabeth proudly sang bring the water out the torch, we don't want the FNM no more.
Despite the tremendous odds, Leo Ryan Pinder now known as Ryan the Lion emerged as the winner and Dr. Dwayne Sands was forced to put his tail between his legs and return to the practice of medicine.
Ladies and Gentlemen, I referred to Hubert Ingraham and the FNM of being distrustful, destructive and wasteful; an ongoing and very painful example is the new power plant here in Wilson City. This plant is significantly over the initial budget of $90 million. The FNM appointed consultant Fitchner referred to the Abaco Plant as a $105 million biased investment at that time. The estimate cost to complete the plant including additional fuel usage and repairs to the old plant will exceed $145 million.
As you are aware the new power plant was constructed in Wilson City instead of Snake Cay because of FNM special interests groups. This project was delayed for years because the FNM did not put the needs of Bahamians first. As a result of changing the site for the new plant, BEC will be forced to spend Millions of Dollars annually to transport fuel over land to the plant adding to the cost to run the new plant. The PLP's selection of Snake Cay as advised by the experts included building a permanent pipe line from the dock to the storage tanks.
Ladies and Gentlemen, this is yet another example of the FNM not putting the interest of Bahamians first. I was told that South Abaco MP Edison Key took a plane ride over Abaco in 2007 and from the seat of his pants selected Wilson City as the site for the power plant. The People of Abaco can thank Edison Key when they go to the polls next in 2012 for all the pain they have endured these past four years. The unnecessary and continuing embarrassing blackouts resulting from the delays negatively impacted four consecutive tourism summer's and the quality of life of many Abacoians and were the result of putting naked politics above the needs of the people.
My Brothers and Sisters, after years of delay the new power plant was officially turned over to BEC on March 10th of this year, yet the Corporation continues to run both the new and the old gas guzzling plant at the same time; and black outs on Abaco continues, the latest being this week. The cost of running two power plants is absolutely outrageous and ridiculous and a massive waste of BEC limited resources.
Hubert Ingraham has not one but two Cabinet Ministers Earl Deveaux and Phenton Neymour in charge of BEC and they are both serial failures who have no shame as they have lied over and repeatedly to Abacoians and Bahamians everywhere about the disastrous state they have driven BEC with one foot on the banana and the other in the grave.
You will remember that Hubert Ingraham promised to deal swiftly with whoever was responsible for allowing BEC old plant here in Abaco to run out of fuel, to date no action was taken against anyone. It was all talk by a PM who has clearly lost his way. Then there was the recent incident of BEC new plant running out of fuel despite having the latest technology to transmit on a daily basis fuel levels in each tank.
Ladies and Gentlemen, persons of Abaco and elsewhere in the Bahamas who still believes that Hubert Ingraham is still the best man for job will be left speechless and angry when the total expenditure on the new Abaco Plant and associate costs are made public.
I am obligated to bring to the attention of all Bahamians that Hubert Ingraham has presided over the worst case of public expenditure abuse in the history of the modern Bahamas which ranks ahead of the FNM San Salvador Airport scandal. What is so sad and damming is; that badly needed funds which are compulsory to address the causes of crime in the country; Hubert Ingraham and his gang have with their eyes wide open wasted numerous millions in the botched Abaco Power Plant.
Ladies and Gentlemen, if this sad state of affairs does not amount to economic mismanagement and putting politics above people, I don't know what is, but I am satisfied that the people of Abaco in their wisdom will remember Hubert Ingraham next year at the polls and cast their vote for Renardo Curry and the PLP.
Virtually everything Hubert Ingraham has touched has turned to powder, dust and salt. To give the FNM another 5 years in office is a mandate for them to continue the same failed policies where Bahamians are not placed first; special interests and foreigners are taken cared off where the wants of the few are satisfied at the expense of the needs of many.
My dear people of Abaco, I put to you this evening that Hubert Ingraham is scared and has lost vision and marches to his own drum beat and not by you the People. Hubert Ingraham caused a $19.6 million 64,390 sq. ft. Government Administration Complex to be built here in Abaco when there was no need for one, save an except to give a contract to the young Bahamian of Woslee Construction whom Hubert took the Straw Market Contract from without logic or justification and wasted millions and ended up giving straw vendors a market that is 20% of the size of what makes sense for current and future usage but costs $5 million more than what was budgeted for by the PLP.  The People of Abaco cried out for a mini Hospital first but Hubert said no and built an office complex and has promised to build the mini hospital. Hubert Ingraham and the FNM do not put the interest of Bahamians first.
Hubert caused a $19 million 65,000 sq. ft. Government Administration Complex to be built in Freeport again where there was clearly no need for one with all of the vacant buildings available at a dime a dozen save and except to give a Gussiemae contract to his cousin Fletcher McIntosh of FES Construction Co Ltd.
No one can accuse Hubert Ingraham of not being brazen and bold in taking care of family as he moved with great speed to give his cousin Fletcher McIntosh of FES Construction another plum contract even though he was not the lowest bidder. The FNM awarded $27.3 Million contract to FES for Marsh Harbour Airport Terminal Building & Tower.
Hubert Ingraham accused the PLP for executing contracts months before the elections and condemned the PLP for so doing but low and below just look at the size of the contracts Hubert has executed left right and center here in Abaco alone in the past few weeks which makes the PLP look like Sunday School Children. Hubert Ingraham and the FNM are borrowing monies like drunken sailors. Hubert Ingraham has no concern how these loans will be repaid, he is only concern with winning.
Ladies and Gentlemen, I tell you tonight that Hubert Ingraham fully realizes that he has a formidable candidate in Renardo Curry and his by his actions dead scared.
North Abaco, you are very blessed to have in Renardo Curry a young man with strong Christian principles, unflinching faith and one who genuinely cares for his community. He has worked tirelessly with the local youth and has offered them leadership, direction and counsel. Many lives, especially the young, have been positively impacted by Renardo and North Abaco is for the better because of him.
It is because of his personable qualities, leadership and sincerity that he is an attractive candidate and a challenging opponent for Hubert Ingraham and the FNM are RED AND FEARFUL.
He is our man to bring North Abaco home to the PLP and to send tired and ideologically bankrupt Hubert Ingraham into permanent retirement. So I appeal to all who have not yet registered, to do so without delay because you cannot bring about a change if you are not registered.
We are in a race against time and must act as a matter of urgency. There is no substitute for a door-to-door campaign as the election will be won in the homes of the constituents. We must consistently communicate the ideals, values and policy proposals of our party to the voters to win their hearts and minds.
I implore all of you to give of your time and talents to assist the campaign wherever you are needed. With all hands on deck and strength in numbers, we will be victorious. You know the Bible says that faith without works is dead.
While others may seek to buy you, we seek to form lasting bonds and partnerships where we work together hand-in-hand, shoulder-to-shoulder in mutual respect to build a better Abaco and a better Bahamas for all.
Together we must leave no stone unturned in our quest to rid the Bahamas of this helpless, hapless, out of touch and insensitive FNM government that has clearly lost the moral authority to continue to govern this country.
Ladies and Gentlemen, I end with the same admonition I gave four years ago, to entertain Hubert Ingraham and the FNM for another five years is akin to walking into a lion's den with a suit made of pork chop.  This time it Renardo Curry time.
Perry Christie as you next Prime Minister and Philip Brave Davis as you next Deputy Prime Minister needs Renardo Curry to play a major role in the next PLP government. We return to Abaco it will be to open the office of Gray Sawyer the next MP for South Abaco.
Ladies and Gentlemen, It is my profound pleasure to ask you to join me in saluting the next Member of Parliament for North Abaco for Renardo Curry and his lovely wife.
May God bless the Commonwealth of the Bahamas?
PLP PLP PLP ALL THE WAY.