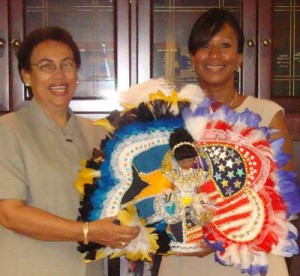 Cultural Icon Arlene Nash-Ferguson, Director of Educulture Ltd., and Therena Cunningham, President of S.T.R.A.W. Inc., Center For Young Women recently returned to Nassau following their participation in separate U.S. Department of State International Visitor Leadership Programs (IVLP).  Mrs. Ferguson participated in a program on "Cultural Heritage Preservation", while Ms. Cunningham's program focused on "The Role of NGO's in Promoting Global Women's Issues."  Both of these female leaders were selected by the U.S. Embassy in support of U.S. Ambassador Avant's ongoing women's empowerment initiative.  During a recent courtesy call on Ambassador Avant the women shared their experiences and Mrs. Ferguson presented Ambassador Avant with a Junkanoo doll symbolizing the cultural ties between The Bahamas and the United States.
The International Visitor Leadership Program is the U.S. State Department's premier professional exchange program.   Visitors travel to the United States to meet and confer with their professional counterparts and to gain an appreciation of the ethnic, cultural, political, and socio-economic diversity of the U.S.  The IVLP program opens in Washington, D.C. and includes visits to 2-3 additional U.S. cities.
Mrs. Ferguson's program on "Cultural Heritage Preservation", included meetings with government officials, museum curators, and individuals involved in promoting the research, conservation and education of America's cultural heritage.  Reflecting on the three-week exchange which included participants from twenty countries including The Bahamas, and visits to Washington, D.C., St. Louis, Missouri, New York City, and Savannah, Georgia, Ms. Ferguson described the program as one of the best experiences of her life. "I met with persons in authority in various areas of expertise in a variety of institutions that as a 'lay person' I would not have been able to access," said Ms. Ferguson.   The most profound experience said Mrs. Ferguson was a visit to the National Archives in Washington, D.C.   "We were in a room where a perseveration expert was working on the original document on the Journal of the Continental Congress and the manuscript was opened to July 4, 1776, the day the U.S. declared its independence — this was indeed a priceless moment for me, and a rare opportunity to actually see this original document of such historical significance," she said.
Therena Cunningham's program focused on the role of non-governmental organizations in the promotion of women's issues globally and included participants from twenty one countries.  In Washington, D.C. Ms. Cunningham met with female leaders from the private and public sectors, and with officials from the U.S. Department of State's Office on Global Women's Issues, the U.S. Department of Labor Women's Bureau, USAID's Office of Gender Equality and Women's Empowerment.  Additional visits included Manchester, New Hampshire; Macomb, Illinois, St. Louis and Salt Lake City, Utah.
The highlight of this tremendous experience said Ms. Cunningham was attending the 24th Annual Women's Equality Brunch in St. Louis, Missouri.  "I met Ms. Betty Dukes, an activist who launched one of the largest sex gender discrimination cases in America.  Ms. Dukes shared the challenges she faced and how she overcame them," said Ms. Cunningham.
Ms. Cunningham noted that one thing that was impressive throughout all of the meetings she attended was the level of respect for NGO's in America, and the legislation that is in place in the U.S. to support the work of civil society organizations.  "My participation in this program comes at a time when S.T.R.A.W. Inc. is approaching another level in its mission to inspire, empower, and advocate for the rights of teen girls and young women throughout The Bahamas.  I plan to utilize the knowledge gained from this program to help the S.T.R.A.W.  team execute these goals," said Ms. Cunningham.