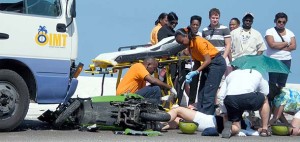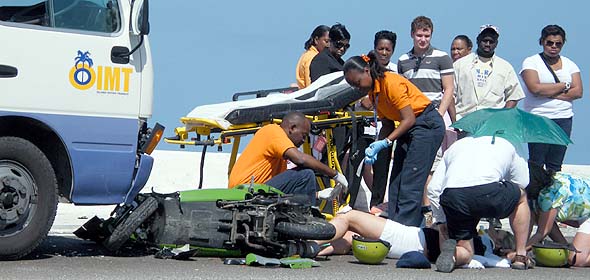 Freeport, Grand Bahama Island – Police on Grand Bahama are reporting the country's latest traffic fatality. On the heel of this year, 2011, officers at the Police Traffic Division here on Grand Bahama are continuing their investigations into the tenth traffic fatality that they have recorded on the island.
Officers from the Police Traffic Department responded to a late night call to investigate a traffic accident at Midshipman and Balao Roads at 11:10pm on Friday 30th December, 2011.
This accident claimed the life of a 58 year old male driver of a gray 2004 Nissan Frontier of Arden Forest and left a 22 year old male driver of a red 2004 Lincoln LS of Fortune Point in 'serious' condition at the Rand Memorial Hospital.
The 22 year old is expected to be airlifted to New Providence on Saturday 31st December, 2011 for further medical treatment.
Again, particularly during this holiday weekend, we (the police) are encouraging the motoring public to:
Drive with due care and attention;
Slow down and drive within the speed limit;
Don't be distracted and drive with greater consideration for other roadusers;
Obey all road signs and signals and
DRIVE to arrive alive, you will get there….
——–
THERE IS A NEW DAY WITH CLAY…North Eleuthera and BP endorsed PLP ROCKSTAR candidate Clay Sweeting sends Holiday Cheer!