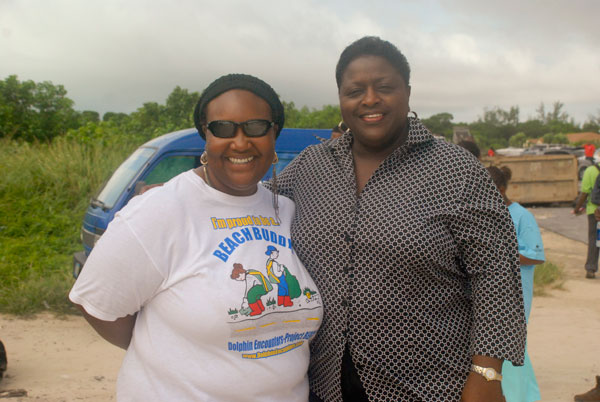 Nassau, Bahamas – Several hundred volunteers from all walks of life throughout The Bahamas turned out to participate in the 26th Anniversary of International Coastal Cleanup. To date, this global initiative has helped remove over 100 million pounds of marine litter from over 170,000 miles of coasts since its beginning. In New Providence alone, several hundred volunteers met at South Beach and Yamacraw Beach to clear surrounding coastline of trash.
International Coastal Cleanup is the world's largest one-day volunteer event created to prevent and eliminate pollution of the marine environment. This year, volunteers in New Providence, Abaco, and Grand Bahama turned out to clean-up their respective beaches and wetlands. The event, which began as a local program in Texas, has gradually expanded to include every major body of water in the world in over 100 countries, including The Bahamas.
"This year was especially challenging due to the weather and we had groups on two beaches working simultaneously for the first time to increase the impact on our precious coastal areas", said Ranaldo Smith, education supervisor at Dolphin Encounters, which is the Coordinator of International Coastal Cleanup for New Providence. "I'm so proud of the kids and community members that came out and helped us accomplish our goal of having both beaches clean and in a pristine state. This event is a culmination of months of planning and working with our awesome sponsors and groups like GGYA to make a difference for the environment on which we all depend. Each volunteer was determined to clean and together we made a huge impact. We also sent the message that we don't want trash to destroy our environment. It took many people working as a unified team to make a real difference and we thank everyone who participated."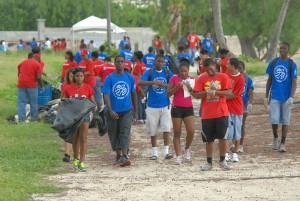 The top ten debris items combined collected in South Beach and Yamacraw Beach included picnic items (cups, plates, knives, spoons), beverage cans, food wrappers and containers, plastic and glass beverage bottles, caps, lids, paper and plastic bags, cigarettes, construction materials, and clothing.
"We have hosted International Coastal Clean Up at Yamacraw and South Beach for several years in the past and we continue to see the same type of debris," said Sophia Smith, education coordinator of Dolphin Encounters. "People visiting the beaches are leaving their trash but we have noticed a slight decrease and that is encouraging. The event isn't just about pollution clean-up it's about pollution prevention. It focuses on educating and empowering people to become a part of the marine debris solution. We hope our efforts will be supported by all by putting trash in its place."
Supporting the event at Yamacraw was the area MP, Melanie Griffin who while picking up trash stopped and encouraged volunteers to "utilize the coastal areas and to take your garbage with you". At the South Beach cleanup, Minister of State in the Ministry of Environment and South Beach MP Phenton Neymour asked students to "understand the environment and the role they play in protecting it, especially in The Bahamas."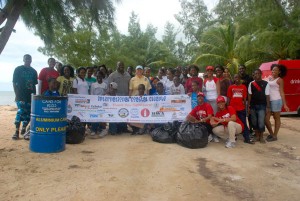 Also participating in the clean up were volunteers from: Dolphin Encounters; Delta Sigma Theta, Rotary Nassau Sunrise Club, South Beach FNM Branch, Yamacraw PLP Branch, University of the West Indies, students from many schools that participated in the GGYA program or their environmental clubs, local residents and other volunteers from all over Nassau.
Scotiabank came out in great force again this year. "At Scotia one of our community focuses is on the environment, and we know that by teaming with Dolphin Encounters for the second year we will continue to do our part to remove the accumulated debris from our oceans," added Indira Rolle, assistant manager in marketing and public relations, Scotiabank.
The Beach Buddies programme, a year-round marine conservation field trip offered by Dolphin Encounters-Project B.E.A.C.H, was originally inspired by the ICC and designed with the guidelines from the Ocean Conservancy. After hours of cleaning up volunteers sorted their refuse by type and wrote down their findings on detailed data cards. The data cards will be submitted to the Ocean Conservancy to help them continue to track common types of litter and try to prevent these items from ending up on coasts in the future.
This year's sponsors for the New Providence event included: Aquapure Water Ltd., Bahamas Food Services; Bahamas Food Packaging Ltd., Bahamas Waste Ltd., Bahamas Wholesale Agency, Bahamas Office and School Supplies, Bahamas National Trust, Caribbean Bottling Company, Chilly Willy Ice, Commonwealth Brewery, Creative Eyes Video Productions, D'Albenas Agency, Dan Knowles Tours, Department of Environmental Health Services, Dolphin Encounters Ltd., Elizabeth Estates Police Station, Esso Palmdale Service Station, Flawless Image Photography, Island Cellular, Johnson's Charter Service; Kelly's Home Centre, Leisure Tours, Lowe's Wholesale, Majestic Tours, Nassau Paper Company, Online Bahamas Weekly, Party Mart, Ports International, Purity Bakery, Scotiabank, South Beach Police Station, Sunsplash Events, The Mall at Marathon, T and K Trash Removal, Town Center Mall, Waste Not- Cans for Kids and the ZNS Community Page.
Coca-Cola is the global sponsor of ICC and the Caribbean Bottling Company sponsored the event in both Nassau and Grand Bahama. "Coca-Cola has supported ocean and waterways cleanup efforts for 16 years and we are pleased to see the program develop further," said Walter Wells, President & CEO of Caribbean Bottling Company. "We have committed ourselves to improving the quality of life in the communities where we do business and the Ocean Conservancy's International Coastal Cleanup is a perfect fit for The Bahamas." "The International Coastal Cleanup engages people to remove trash and debris from the world's beaches and waterways, to identify the sources of debris, and to change the behaviours that cause pollution," added Linzi Knowles- Belton, senior education coordinator for Dolphin Encounters. "We thank each and every volunteer and sponsor that participated – you each made a valuable contribution to our environment. As a coastal community keeping our ocean and waterways clean is vital to our environment and way of life. Together we can preserve our coasts and create a "sea of change."