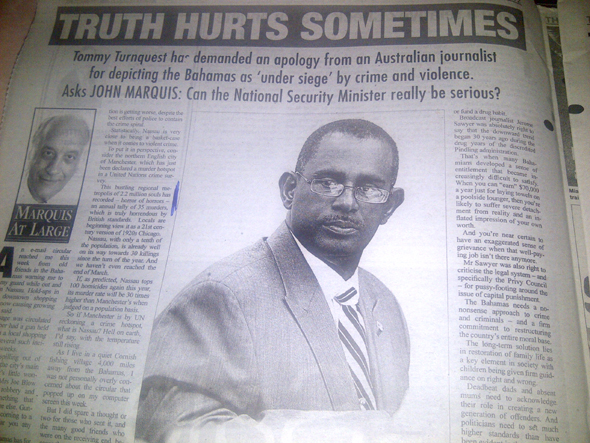 John Marquis loads up his editorial pen and fires it on Tommy T – GET YA BIG T today!

Nassau, Bahamas — If ya don't laugh you will cry! Today, the Tribune's BIG T offers an illuminating, thrilling ride in its column with John Marquis. With its usual rollercoaster twists and turns in editorial gymnastics, the harsh British writer did not disappoint.
But let's get to the meat, or as we say in Bahamianese – to the 'slam bam'!
In today's paper Marquis is castigating the Minister of National Security, Tommy Turnquest, as every senior editorial writer in the country has, for his nonchalant, arrogant and miscalculated response to the crime crisis.
Today, the poor and homeless are victims of crime, with the unemployed and students regularly targets of violent episodes perpetrated by barbaric hoodlums now on bail.
Turnquest is coming under fire once again for making another JACKASS statement to the press.
An Australian journalist delivered a scathing piece on the state of crime in the country, describing the plush paradise as a pit when it comes to crime. Nick Lazaredes presented the horror and mayhem to the world in a documentary now on youtube.
But while few journalists had the nerve to discuss the report in the country, outside the Bahamas scathing reviews have come.
Tommy wants Lazaredes to apologize for his presentation of the facts. Tommy must think Lazaredes is part of the lame stream spineless press corps in the Bahamas. The crew who daily search for the next food line, who are buying weave, parading in 'jungaliss' wardrobes; while frightened of their own shadows when it comes to reporting the truth.
Psssst [BP whispers into Tommy's ear]: Ya barking up the wrong tree, ma brudda!
Before stripping Tommy like a slave headed from the Ivory Coast, Marquis shared a similar point now being carried by the opposition. He pointed to the fact that crime and the economy go hand in hand, and agreed that if the country's crime problems continue unabated, the economy will continue to suffer.
The point appears to be missed by the current government, which is focused on its massive mismanaged road project that will give criminals easy escape routes.
Marquis pointed out the fact that the United Nations declared Manchester, with its 2.2 MILLION population, a "murder hot spot". Get this, that city had only 35 murders last year.
Marquis' loaded pen noted that the Bahamas had just a fraction of that population, but has already nearly outpaced that major city when it comes to murders. He concluded that if Manchester is a murder hotspot, then what does the UN think of the Bahamas? "Hell on earth, I'd say, with the temperature still rising."
Boy I tell ya, "if ya don't laugh you will cry!"
We report Yinner decide!