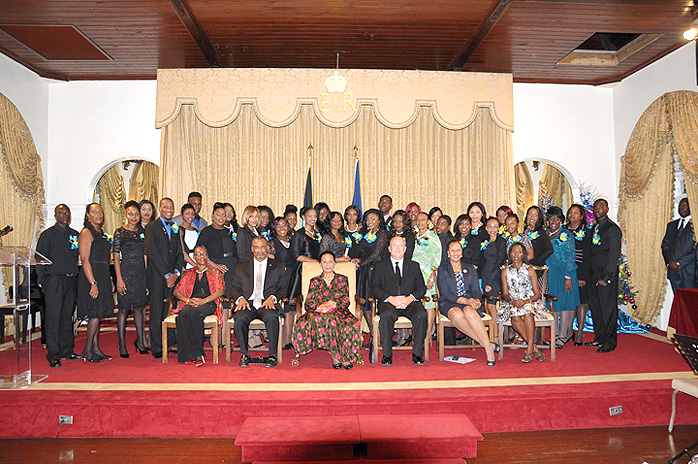 Nassau, Bahamas — Over 50 students from the Anatol Rodgers High School's 360 Training Programme were awarded at Government House recently.
The students participated in a number of specialized areas such as certified front desk representatives, lodging management, certified maintenance employee, certified restaurant servers, certified guest service professionals and certified hospitality professionals.
Four students also recently won the International Hospitality Competition – Jeanie Farris, Dezaraye Dean, Vernajh Pinder and Ameera Poitier.
The programme is in partnership with the Learning and Development American Hotel and Lodging Educational Institute, which is based in Florida, Michigan and India.
Director General of the Ministry of Tourism Joy Jibrilu said this bodes for the future of tourism.
"These were 52 vibrant, energetic, intelligent and any adjective I can think of – these students encapsulated them all. They are the crème de la crème because they won the overall prize in North America. They are the first foreign students to have ever done that – such a proud feeling," she said.
"There was something that I saw in those students. Every speaker, who spoke – they listened with such rapt attention. I've never seen that. They were so engaged. You can see the sense of pride that they have in their achievement. This programme needs to be replicated throughout the length and breadth of The Bahamas not only because tourism is our number one industry but because what it has done for these students."
Director of Learning and Development & American Hotel & Lodging Educational Institute Jay Metzger said he is proud of how far the programme has come.
"It's amazing to be able to help people and to see them fulfill their dreams. We know that they are just getting started. It's just the beginning. It's always good to see this," he said.
"The biggest thing they learnt is customer service. If you take care of people and you do it to the best of your ability it doesn't matter what job you are performing – people are going to see that and they are drawn to it. They are drawn to your personality. Our goal is to make this not just for
the students but also for the industry. It all starts with industry partners and those subject matter experts to help us help these kids in what they need to know."
Founder of the programme Janelle Cambridge-Johnson said the Tourism 360 programme is a movement that is going to promote quality hospitality and tourism education in both primary and high schools.
"In the high school we want to put the icing on the cake and expose students to a myriad of career opportunities so that when they leave school they are able to transition into the world of tourism," she said.
"The students are given 360 hours of practical work experience to get that certification. The Ministry of Tourism was instrumental in certifying teachers to teach this programme and for the past 10 years we have worked very closely with the ministry to ensure that our students were successful over the years. I am so proud of these students because they are reflection of me. I love the hospitality industry and I wanted to use my experience to provide the same love, hope and excitement and plant it into the students and it has been an awesome experience over the years."
Meldora Cartwright, who was awarded, graduated from Anatol Rodgers in 2013 and recommends students to become a part of the programme.
"It was plenty of work and studying but it became easier once I got into the hotel and began to work in different departments. This programme helped me to get a job while I'm in school," she said.
Iante Stubbs said she didn't know what tourism was all about, but learnt more than she expected through the Tourism 360 programme.
"I went to the programme like a blank slate but the programme helped me to learn about the tourism industry and now I am pursuing a bachelors in tourism management at the College of The Bahamas," she said.
"I would recommend this programme not only to students but to tourism professionals as well."