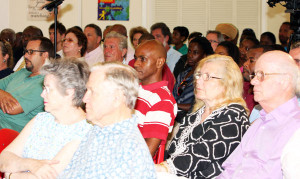 Nassau, The Bahamas – The Government is keeping its commitment to redevelop Montagu foreshore including restoration and reclamation of Montagu Beach and enhancement of the green area around the foreshore.
Other upgrades to the Montagu foreshore will address fish vending activities, use of the boat ramp, traffic flow and parking facilities.
Public Works and Transport Minister the Hon. Neko C. Grant said the recreational area will be a family seaside park and picnic area that all will be proud of and it will continue to provide recreation and fun for Bahamians and visitors.
Mr. Grant was among presenters at a recent Town Meeting to discuss the Montagu Beach improvement project. In attendance was the Hon. Loretta Butler-Turner MP for Montagu, the Hon. Earl Deveaux, Minister of the Environment and permanent secretaries Colin Higgs and Diana Lightbourne. Members of the Montagu Vendors Association were also present.