A second traffic mishap involving another four passengers this time on Robinson Road at 4am – Streets becoming deadly by the minute as holidays approach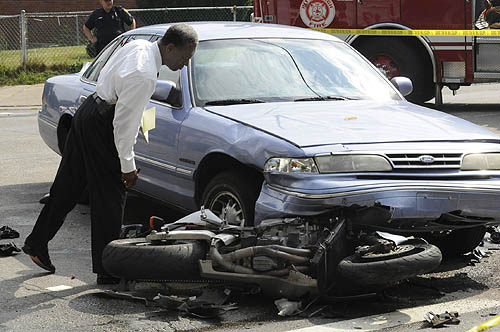 Nassau, Bahamas –– With all the new express ways and expanded corridors persons are dying on the streets of the capital by the day and today we have more news on that fatality on East Street near Big One Shoe store.
Our up-to-the-minute information hitting Bahamas Press news wire confirms a second victim has died in that fatality last evening.
We can confirm a vehicle travelling in the area with four passengers was slammed by another and thrown upside down ejecting its two front seat passengers into the air.
The vehicle hitting the car written off never stopped.
The ejected pair survived the tragedy, but the two-backseat passengers were not so fortunate. Their remains had to be extricated from the mangled wreck by firefighters.
Late Sunday evening rescue teams had to be called to the area and along with EMS services rushed the two survivors to hospital.
Wasting no time firefighters used the Jaws of Life to retrieve the lifeless bodies of the two-backseat passengers. They were pronounced dead on the scene. Police are on the lookout for that fleeing vehicle involved in the incident.

Second Early Morning Accident on Robinson Road
Breaking News around 4am recorded a second accident. BP is reporting another serious accident has occurred on Robinson Road.
We can tell you there are three girls and one male in this latest incident.
We can report this accident occurred just after 4am this morning. Two of the victims have just arrived at the Accident and Emergency section of PMH.
The two women were brought via private vehicle….BREAKING NEWS HAPPENING NOW….