GRAND BAHAMA IS ABSOLUTELY FNM COUNTRY! from FNM Restoring Your Trust on Vimeo.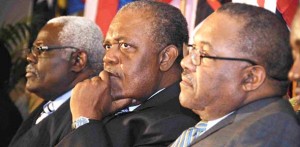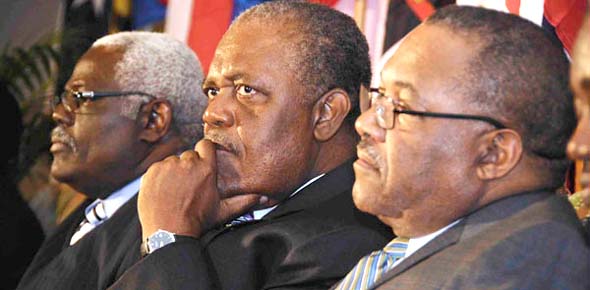 Freeport, Grand Bahama —  The people of Grand Bahama flocked to Christ King Parish Hall this afternoon to hear what PM Ingraham had to say relative to the candidates in Grand Bahama and the status of Kenneth Russell's nomination. The residents of Grand Bahama were left with their mouths wide open and highly disappointed as Ingraham said absolutely nothing with sense.
The meeting was called to order and opened with a prayer and the singing of the National Anthem. The names of Members of Parliaments in attendance were called off by David Thompson, who then introduced the Prime Minister.
Papa started off by saying that he was born in Grand Bahama, his grandmother placed him in the care of Hugh Campbell and how he would do nothing to hurt Grand Bahamians.
He went on to say Russell was fired for breaching Cabinet protocol, however, he never mentioned why he does not want Mr. Russell to run again in Eastern Grand Bahama. Both arguments are not the same.
He went on to say that the branches will be allowed to submit two names to the Council and the Council will then select the candidate to contest the seats. We here at BP wonder whether two names will be submitted for the North Abaco seat. We are just wondering.
The meeting was then brought to an end with a prayer without Papa taking not one question or without Mr. Russell being allowed to defend himself.
Mr. Russell confirmed to BP shortly after the conclusion of the meeting, that he intends to make a statement in Parliament in the morning during the sitting of the House of Assembly.
What a waste of the public funds as there appeared to be hundreds of Police Officers in uniform and plainclothes in attendance. Further, Papa said nothing with sense or gave any reason why he did not meet with the investors or why he turned down the project for East Grand Bahama, which could have employed thousands of Bahamians.
The Prime Minister and his entourage then left having disappointed the thousands of people in attendance. One avid supporter of the FNM in attendance said to BP, "THIS MEETING COULD HAVE BEEN HELD OVER THE PHONE, PAPA SAID NOTHING AND TOOK NO QUESTIONS. Why come here to waste our time. I am voting PLP this time."
We report, YINNER DECIDE