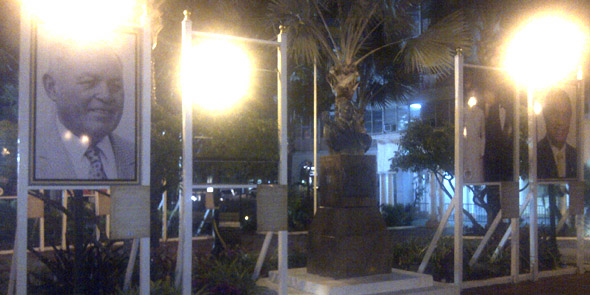 PINDLING PICTURE REMOVED FROM RAWSON SQUARE!
Nassau, Bahamas — Like King Henry the VIII, Bahamas Press is calling for the head of the person(s) who played politics in Rawson Square only minutes after Prince Harry left the exhibition, which marked the celebration of Queen Elizabeth's Diamond Jubilee.
Only minutes after the Prince left the square to continue his itinerary in North Eleuthera; some JACKASS decided to play politics and rewrite history in downtown Nassau.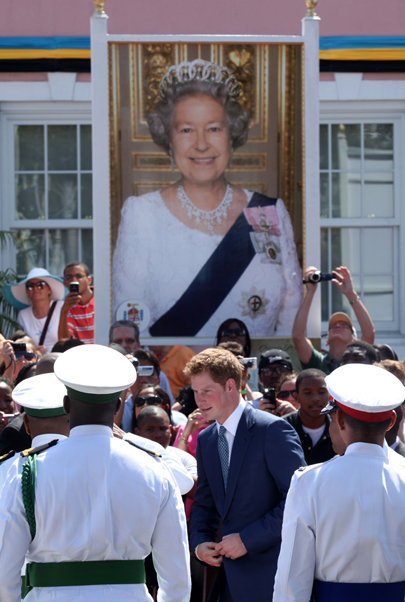 Bahamas Press was called to the scene of this major crime all to discover our tip was true. Someone decided to remove the Father of the Nation from the portraits on Bay and made it even more difficult for guests and students visiting the Royal Exhibition to know who the Queen's representatives were.
We can report, of the row of Prime Ministers posted on Bay, excluded the first Premier in a majority rule Bahamas, Rt. Hon. Sir Lynden Oscar Pindling. Some JACKASS wearing "red bikini" decided for a second time to have Pindling exhibited portrait was removed. This is not the first time this occurred.
Many would remember when the Bahamas celebrated independence someone a few years ago, had Pindling's photo was removed then. SHAMELESS!
Additionally, PLP appointed Governors General were also removed and in once case Arthur Hanna written information was removed. This is shameless and indeed appalling!
Missing from the line of GG photos was Sir Henry Milton Taylor and Sir Clifford Darling both now deceased.
Bahamas Press is calling on the Cabinet Office to correct this most offensive act of 'Political JAUNDICE' against National Heros who built the modern Bahamas!
Bahamians everywhere should detest this cruel action by someone whose pure motive, is to erase history and destroy the true legacy of our Bahamaland!
THE ACTIONS OF A STRANGER INDEED! WE BETTER STOP YA … [YOU KNOW WHAT I WANT TO SAY!]
We report yinner decide!