Oswald Brown

Oswald Brown WRITES!!!
By OSWALD T. BROWN
In a press statement released on Wednesday, the Progressive Liberal Party's (PLP) Northern Bahamas Campaign described Zhivargo Laing's decision to abandon the Marco City constituency in Grand Bahama to run for a seat in New Providence as "a clear admission that he had reached the conclusion that he would be soundly defeated if he chose to seek reelection in Grand Bahama."
The decision for Laing to run as a Free National Movement (FNM) candidate for the Fort Charlotte constituency in New Providence reportedly was reached Tuesday night at a meeting held in Freeport by Prime Minister Hubert Ingraham with FNM Grand Bahama Council members.
"No reason was given for Mr. Laing's surprise decision to desert voters of Marco City, whom he has represented in the House of Assembly for the past four-plus years, but there was clear evidence that Mr. Laing would have been easily defeated by noted Grand Bahama lawyer Gregory Moss, the Progressive Liberal Party's candidate, who has been waging an impressive campaign in Marco City with an army of spirited young supporters," the PLP's Northern Bahamas Campaign press release said.
The press release added that the "prospect of an overwhelming victory by Mr. Moss was advanced considerably by the fact that Mr. Laing was one of three ministers in the cabinet of Prime Minister Hubert Ingraham who remained silent as Mr. Ingraham and his FNM government totally neglected Grand Bahama over the past four-plus years, resulting in an unemployment rate in Grand Bahama that is estimated to be around 25 percent."
"Additionally, in his capacity as Minister of State for Finance, Mr. Laing and Prime Minister Ingraham, who is the Minister of Finance, have been widely blamed for the poor state of The Bahamas' economy because of their mismanagement of the country's finances," the release noted.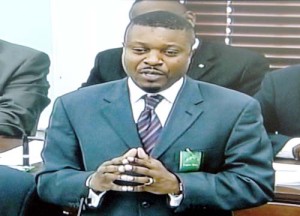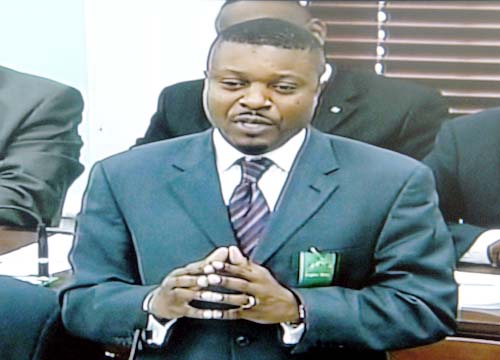 It added: "Nonetheless, the decision by Mr. Laing to forsake Marco City must have come as a surprise to residents of that constituency, considering that in the recent redrawing of the boundaries of constituencies in Grand Bahama, it was quite obvious that an attempt was made to boost Mr. Laing's chances of winning the seat by moving some polling divisions into Marco City that were believed to have a majority of FNM supporters."
In moving to the Fort Charlotte constituency in New Providence, the release said Mr. Laing is "going back to the constituency he represented from 1997 to 2002, when he was defeated by PLP Alfred Sears, who is not seeking reelection."
Noting that the PLP has already ratified Dr. Andre Rollins to run as its candidate in Fort Charlotte, the release added: "We in the PLP Northern Bahamas Campaign are absolutely certain that Dr. Rollins, one of several dynamic young professionals that have been chosen by the PLP as candidates for the next general election, will defeat Mr. Laing in the same convincing manner that Mr. Moss would have trounced him if he had remained in Marco City."
Knowledgeable sources in Grand Bahama say Laing made his decision after canvassing the area over the past several weeks in the aftermath of the boundary changes and determined that the support for Gregory Moss was too substantial for him to overcome.
He has also been dogged by a "revival" of the Mona Vie scandal, which was a hot topic in 2008. The scandal centered around a decision made by the then Comptroller of Customs John Rolle to properly change the duty on the importation of Mona Vie, a nutritional drink, from 10 percent to 45 percent and the alleged involvement of Minister of State for Finance Laing in reportedly seeking to have that decision reversed. His sister-in-law was one of the importers of Mona Vie.
Recently, questions have also been raised about Laing's brother-in-law being fast-tracked to become the Assistant Comptroller of Customs early next year, despite the fact that there are a number of more well qualified senior customs officers. The questions are related to the fact that as Minister of State for Finance, Laing has responsibility for Bahamas Customs, and the issue of whether nepotism is involved has been raised.
Whether or not these issues had anything to do with Laing's rapid decline in popularity in the Marco City constituency is open to speculation. But the fact of the matter is that the Mona Vie scandal is a national issue and it will remain a millstone for Laing to overcome no matter which constituency he runs for; so will the charges of alleged nepotism.