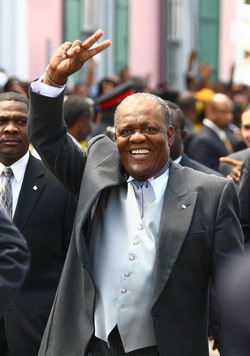 Dear Bahamas Press,
When will my people begin to understand the Bahamian politician's playbook? When will they realize that every Bahamian government, going back to the UBP, has employed the same election tricks over and over and over again? Like an abused woman, sometimes I wonder what will it take for my people to see that our politicians do not love them, nor feel obligated to look out for their best interests.
Men and women will do whatever necessary to get into the House of Assembly because of the perceived advantages and prestige they will receive. But when they actually make it, they realize that being a Member of Parliament or a cabinet minister is a lot better than they thought. They realize early on that if they play the game right, they can use their position of influence to help friends, family and lovers, all to the detriment to the rest of us.
Bahamian members of parliament knows that our people don't want to be bothered with things or issues that doesn't affect them or interfere with their daily lives. And what's worse is these same politicians have mastered the art of making the issues this country face seem a lot more harder, complex and expensive then they really are. They have mastered the art of looking busy when in reality, they haven't accomplish anything of significance. As a result of this, the Bahamas burns.
This brings me to the present Prime Minster and his 2011-12 budget presented in the House on Wednesday. When I heard Mr Ingraham go over the highlights of his budget, it was deja vu all over again. I watched him speak and thought to myself, not again. Let me explain.
Going back to 2007, there could have been only one reason why Mr Ingraham tried to kill Baha Mar, stopped, reviewed and cancelled so many projects his first few months in office. He bet that the recession would not last long or be very devastating economically.  He ignored all the data and went by his experience in 1992 when the recession that year was less than 18 months and the recovery that ensued under Bill Clinton, just so happened to be the greatest period of economic activity in American history. It was that wave that Mr Ingraham rode to a second term in office in 1997.
So Mr Ingraham thought 2012 would be a repeat of '97 with the big finale being him riding off into retirement handing power over to Tommy T or some other FNM. In other words, he would get right in 2012 what he got so wrong in 2002. That was the plan.
But his calculations were off. Way off, and what has transpired over the last 3 years has proven one thing; in good weather, anybody can keep  the ship steady, but when your in a storm, you will find out just how steady a hand the captain has.
The fact is, Mr Ingraham's economic policies during this recession has failed. His decisions were a day late and narrow minded. When his term is finished, he would have left the country with nearly two billion dollars in debt and bankrupt.
The last three budgets he presented to the House of Assembly have turned out to be wrong, dead wrong in its projections. The previous fiscal year's budget projections was so off, that the following fiscal year, 2010-2011, Mr Ingraham was forced to levy the largest tax increase in Bahamian history on us. What that should tell the Bahamian people is that our Minister and Jr Minister of Finance have no clue.
Look at how bad Mr Ingraham and Sharvargo mismanaged the country's finances:
The 2008-09 budget had a deficit of $440 million
The 2009-10 budget had a deficit of $588 million
The 2010-11 budget has a deficit of $521 million
That is $1.5 billion of debt that Mr Ingraham added to the national debt in 3 years and he still has a year left in this term as Prime Minister! As a result of Mr Ingraham's bad fiscal management, the country's financial rating was downgraded by Standard & Poor's in 2009.
With this in mind, I wasn't eager or interested in hearing what Papa had to say on Wednesday, but being a glutton for punishment, I tuned in; and my mouth hit the floor as he read the highlights of his budget. I just want to mention a few of them briefly:
Firstly, Mr Ingraham's government will set aside $25 million for the National Job Readiness and Training Program where his government is looking to train around 3,000 Bahamians. I applaud Mr Ingraham for this, but this raises questions that has to be asked: Where is he getting that $25 million from? Will there be new taxes? Will he trim funds from other government departments that are already struggling to make up this $25 million? If so, which ones? Is that $25 million coming from the sale of BTC, where Mr Ingraham said that money will go to pay down the country's debt?
This government also intends to offer subsidies to private sector companies that hire unemployed persons. Well,what I want to know is, where the hell were these subsidies last year or in 2009? Why wasn't there any kind of employment subsidies in previous budgets since the recession started?
These two initiatives of the government are well intended, but they are 3 years too late. This bothers me because it seems to me that our leaders have chosen to act when its convenient for them and they can get the most political mileage out of it. This is so sad. Our brothers and sisters are hurting and Mr Ingraham decides to bring relief when he can benefit from it the most.
Isn't it amazing how over the last 4 years Mr Ingraham and his cabinet seemed void of good ideas during the start and darkest days of the recession and now the closer we get to an election, he can come with with all sorts of stuff, lol?
You think some of our brothers and sisters on the Family Islands could have benefited from these programs a year or two ago rather than abandoning their home and being forced to come to New Providence to look for work? When people were being terminated, their power being cut off, banks foreclosing on their homes, Papa sat back and didn't do much because he was bidding his time. And when he did do something, it was the result of public pressure being applied!
And for those who may say Mr Ingraham can do this now because the economy is turning around, I would love for you to show me evidence of that. You need an economic stimulus and there hasn't been one for 4 years nor has the United States recovery been moving fast enough to have that much of an affect on the Bahamian economy as yet.
Fact is nothing has changed economically in the country in 4yrs, so why couldn't Mr Ingraham do these same things years ago?
Don't be fooled, these initiatives by Mr Ingraham are not about people. Mr Ingraham knew the people were suffering and could have done something sooner, but he obviously held off because he knew his party had nothing to show the people before the election and thus hold off on the "goodies" until election time. It has always been about trying to find a way to hold on to power and if it means letting the people suffer a bit, my brother, you better know Jesus, cause don't look for Papa to bring you some relief when you need it most.
Another thing he highlighted was his intent for the Civil Service to hire 200 people, pay the Civil service their increments and "OPEN" the salary scales. Bahamas Press, my blood started to boil when I heard this! Where this man going to find all this dam money? The government is already projecting another deficit of $521 million for the current budget, so if the country is broke please tell me, P-L-E-A-S-E tell me, where will this Prime Minister find the money for all this?
There has been a freeze on the public service hiring going back to the Christie administration, and times were good then. So will someone explain to me why is he hiring now when the government is broker than Broke Back Mountain?
That's $25 million for a training program, hiring another 200 civil servants. Then he wants to restart the increments and make them retroactive for the entire civil service? Plus he wants to "open" the salary scales too? Your talking another $30-$40 million right there. Looks like when Papa go, he is intent on leaving us like Papa Doc left Haiti, broke, broke, broke and in heavy debt!
I can't believe that after raising my taxes so high, severely gutting the budgets of every government ministry, going on national television and telling the Bahamas that we all have to tighten our belts, that now, Mr Ingraham has abandoned these very words and is obviously gearing up for an election using the very same tax money that you and I had to struggle to pay.
But what this shows is how ineffective Mr Ingraham has been this lap. He knows he can not run on his record regarding the economy, crime, education, national security or immigration because his record royally sucks. So what is the next best thing to do with an election coming? IF THEY DON'T WANT TO GIVE YOU THEIR VOTE, BUY THE DAM VOTE!
It's a political ploy that every Bahamian government plays, especially when they realize they are steering defeat in the eyes. They throw lots of money at you, hoping the money persuades you to vote for them. What's sad is so none of Mr Ingraham's highlights refer to crime, education, solving the backlog of cases, immigration, education or any other social ill. Its all about giving you more money, lol. How shallow and shortsighted!
It is so obvious that Mr Ingraham has deliberately held these initiatives in his back pocket just so he could play them now. I can see it now, Papa on the campaign trail talking about how he put so many Bahamians back to work on his training program, how he gave the civil service their increments. I hope to God Bahamians don't buy it and see right through it because that is all he has to run on. He can't run on anything else.
These fellas only care about keeping power? And if it means letting us hurt or suffer just so they could benefit for another five years of power, they will let me and you suffer.
The economic conditions have not changed much since 2008, so everything Mr Ingraham highlighted in his 2010-11 budget, what stopped him from doing it in 2008, 2009, or 2010?
Altec