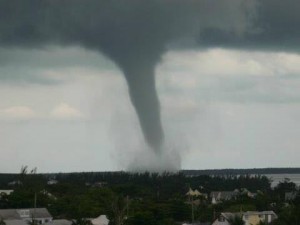 Wife stabbed huband repeatedly multiple times this morning.

..

BREAKING NEWS <<< Bahamas Press is reporting there could be another domestic incident in the Bahamas that may have resulted in the death of a man.

We are getting reports that an incident has erupted in the Thompson Court area of Oakes Field around the Warren Street – Boyd Road area.

Sources on the ground tell us a domestic dispute between a man and woman occurred just a few hours ago. We are told the woman stabbed the man multiple times about the body.

His condition is still unknown, but we hear, the incident is serious. STANDBY FOR MORE UPDATES….

Tornado Touches down in Harbour Island

BP has footage of a tornado which touched down in Harbour Island earlier today. We are being told some damage was done on the island including a vehicle being thrown into a home.