The gamblers now have the FNMs, PLPs and the Church fighting each other and further tearing down the country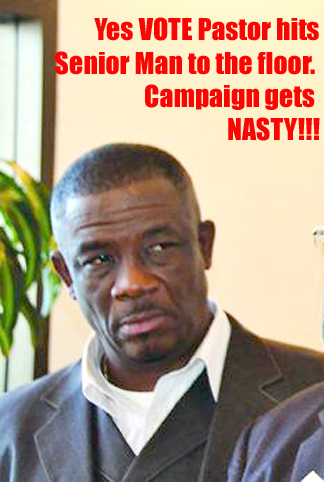 Nassau, Bahamas — Police might investigate a recent assault incident by "Yes" Vote representative and FNM Chaplain Pastor Gregory Minnis who delivered a striking blow to an elderly patron at McDonalds Tuesday morning.
Bahamas Press understand Ingraham's Justice of the Peace officer, Rodney Moncur, was nowhere in sight to capture the incident. However, BP was there, live and direct.
The incident unfolded when an FNM wartime general, 68-year-old Yahn Cartwright, began expressing his opposition to the fact that unsaved, unchristian and unprincipled men of the cloth have sold their souls for filthy lucre. Mr. Cartwright objected to the "YES" fest last Friday and concluded that the righteous anger of the Bahamian people will reject the referendum come January 28th.
Feeling dejected and defeated already by the comments, Pastor Minnis, leaped across the table to Mr. Cartwright and struck the elder with a mighty blow to the head, knocking his glasses off his face and landing the victim on the ground.
Help could not be sought to restrain the Gambling Pastor 2.0 Minnis, who is also a vocal supporter of the "Yes" Vote Campaign.
Aaron 'Kiki' Knowles had to shield Mr. Cartwright on the floor to avoid another attack by Pastor Minnis.
Patrons could not believe what they were witnessing. A "Yes" voter getting violent and desperate punching a senior man to the floor in a kid's restaurant.
UNBELIEVABLE!
The situation is shameful and polls are turning in favour of voters who seek to "Save the Bahamas" from those who seek to destroy her beauty.
In a poll taken early this week by BBB Analytics, the "Yes" vote support has slipped by 20% following the shameful carnival type bribery event that took place last Friday on R. M. Bailey Park. The event has elevated interest in the January 28th Poll and thousands of "NO" proponents who had initially decided not to participate, are now dusting off their voters cards and are headed to the polls.

We report Yinner decide!